It is probably no surprise that the greatest navigation application on Google's Android platform (google navigation android app) is utilizing the company's own mapping system. Google have a massive amount of the known world mapped in minute detail and a robust geo location function, this enables the Google Navigation Android App to provide the crucial combination of knowing exactly where you want to go and where you currently are in relation to your destination.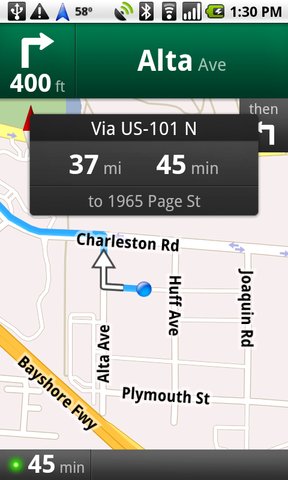 Google navigation android app
Even on a basic 3G connection, the wandering blue arrow stays approximately true to where you are. When you start using Street View, being lost becomes a thing of the past; it is an almost hilarious concept in itself. The google navigation android app is more than capable when on foot but using the app for driving directions can be a little bit difficult sometimes on a 3G Connection, this is because the directions can take a long time to catch up with you and load, dependent on your network carrier and their coverage the signal can be lost frequently too.
The very handy "find" function allows you to bring up local amenities such as petrol stations, hotels, shops and restaurants with ease, linking back to Google Maps with starred reviews of each location. Your own reviews and custom search string can be added with this feature too.
Route directions and local amenities aren't the only thing on offer with Google maps either, with more pre-built, optional layers adding traffic reports, Google Latitude indicators and the app even includes Wikipedia links for other local points of interest you may never have even considered.
Street View is, of course, the sizable cherry on the top of this navigational super cake. The pasted-together, 360-degree rotatable still photographs of any Google Map roads marked in the telltale dark yellow have been scaled for Android. The maze of yellow lines marked up with tiny road signs that you'd find on a PC have been smoothly replaced with an uncluttered portrait view, the road names branded with a large translucent font instead.
The Android touch screen makes the point and click element of Street View the easiest thing in the world to use, literally allowing you to take a walk with your finger, drop the yellow "Peg Man" where you want and watch the minutiae of your projected route unfold.
Working reliably pretty much anywhere in the world, Google Maps effectively (as long as you have a roaming net connection) makes maps, guidebooks and to a certain extent, sat nav equipment redundant. As the Google team continues roaming the world in its little camera-topped cars and mobile technology becomes more advanced this is a free service for Android users that is only going to get stronger, clearer and easier to use year upon year.